Dancing & Drumming
at the Source
Viver Brasil's Annual Travel Program
15-Day cultural immersion to Salvador, Bahia, Brazil,
the heart of Africa in the Americas!
For over 20 years, Dancing at the Source has provided travelers with curated cultural tours, along with daily Afro-Brazilian culture classes taught by experienced faculty, who are among Bahia's most influential dancers, musicians, visual artists, researchers, and culture makers. The trip leaders have developed deep professional and personal involvement with the arts and spiritual communities of Bahia, and are committed to providing travelers with a unique opportunity to experience Afro-Brazilian culture outside of the typical tourist context.
Through first-hand experiences, travelers will connect and learn from many of Bahia's top performing artists, spiritual leaders, visual artists, socially conscious thinkers, and educators to advance their historical understanding of Afro-Brazilian traditional and contemporary culture.
Read more about Dancing at the Source in the LA Times feature article
learn at the source of afro-Brazilian dance, music, & culture
During western slavery, 12 million slaves were transported from West Africa and sent to the Americas: 20% died in the middle passage and 40% settled in Brazil.
Sounds like a shocker – but if you've ever visited Brazil, you'll quickly notice the rich African culture. Salvador, Bahia, Brazil was the largest Brazilian harbor to transport African slaves into Brazil. Because of its history, this beautiful urban coastline is often called today the Heart of Africa in the Americas. The culturally rich destination is home to Bahia's most active spiritual leaders, visual artists, thinkers, performing artists and educators. Viver Brasil invites you to learn from these leaders, all while enjoying concerts, opportunities to purchase custom art, jewelry, clothing, eating amazing food & sun-bathing on the beautiful beaches of Salvador, Bahia.
This trip is not for everyone but instead for the curious traveler, who's looking for a culturally rich experience. This seeker will explore the nuances of Afro-Brazilian culture, witness sacred Candomblé ceremonies and study Brazilian history with Bahian elders. You'll leave the trip with a complete understanding of the influence that the African Diaspora had on Brazil.
experience life in Bahia
You'll be in good hands while on the trip. Led by Artistic Directors Linda Yudin and Luiz Badaró, Yudin has lived and visited Bahia for over thirty years, while Badaró is a Bahia native, who is a renowned dancer / teacher in the Brazilian arts community. Over the fifteen-day trip, they'll take you on an experience beyond a typical vacation, that's booked by a hotel concierge, but instead a local cultural adventure, that includes:
Afro-Brazilian dance lessons from internationally known master instructors

Song and drum lessons from Brazilian Carnaval musicians

Festival of the Boa Morte Sisterhood in Cachoeira – that celebrates Afro-Catholicism

Walk the serene beaches alongside the Atlantic Forest

Visit a Boitaraca Quilombo, which once was a settlement for escaped slaves

The mixture of African and Portuguese traditions is unique and worth exploring for any curious traveler.

Visit the São Lázaro Festival

Experience a full day of learning at Temple Ilê Asê Ojisê Olodumare, Casa do Mensageiro

Visit the United Nations cultural heritage site in the Reconcavo where Samba was created

Meet many of Bahia's most active spiritual leaders, visual artists, thinkers, performing artists and educators

Attend music and dance concerts, enjoy great cuisine & the beautiful beaches of Salvador, Bahia

Enjoy performances by the Bale Folclorico da Bahia and Dida Women's Percussion Ensemble.
Pricing
Full payment must be made by June 30, 2019.
This package price includes R/T travel to Brazil from all major U.S cities and based on double occupancy accommodations at the Marazul Hotel, all classes and related activities, translators, guides, ground transportation and a hearty breakfast at the hotel.
* A tourist visa is required to travel to Brazil. Visa costs NOT included in package price. Lunch and dinner is also not included.
Payment Plans are available upon request.
Contact Viver Brasil's Executive Director at info@viverbrasil.com for more information.
The non-refundable deposit is required by April 30, 2019.
Non-Refundable Fee
$500.00 + 5% Processing Fee
$525.00
Early Bird Fee
$3950 + 5% Processing Fee
$4,147.50
Double Occupancy
$3,895.00 + 5% Processing Fee
$4,099.75
Single Occupancy
$4,495.00 + 5% Processing Fee
$4,719.75
Dancing at the source leaders
Linda is a Los Angeles based internationally recognized dance ethnologist with three decades of experience studying, researching and working in Bahia in the field of Afro-Brazilian dance, education, performance, spirituality and cultural tourism.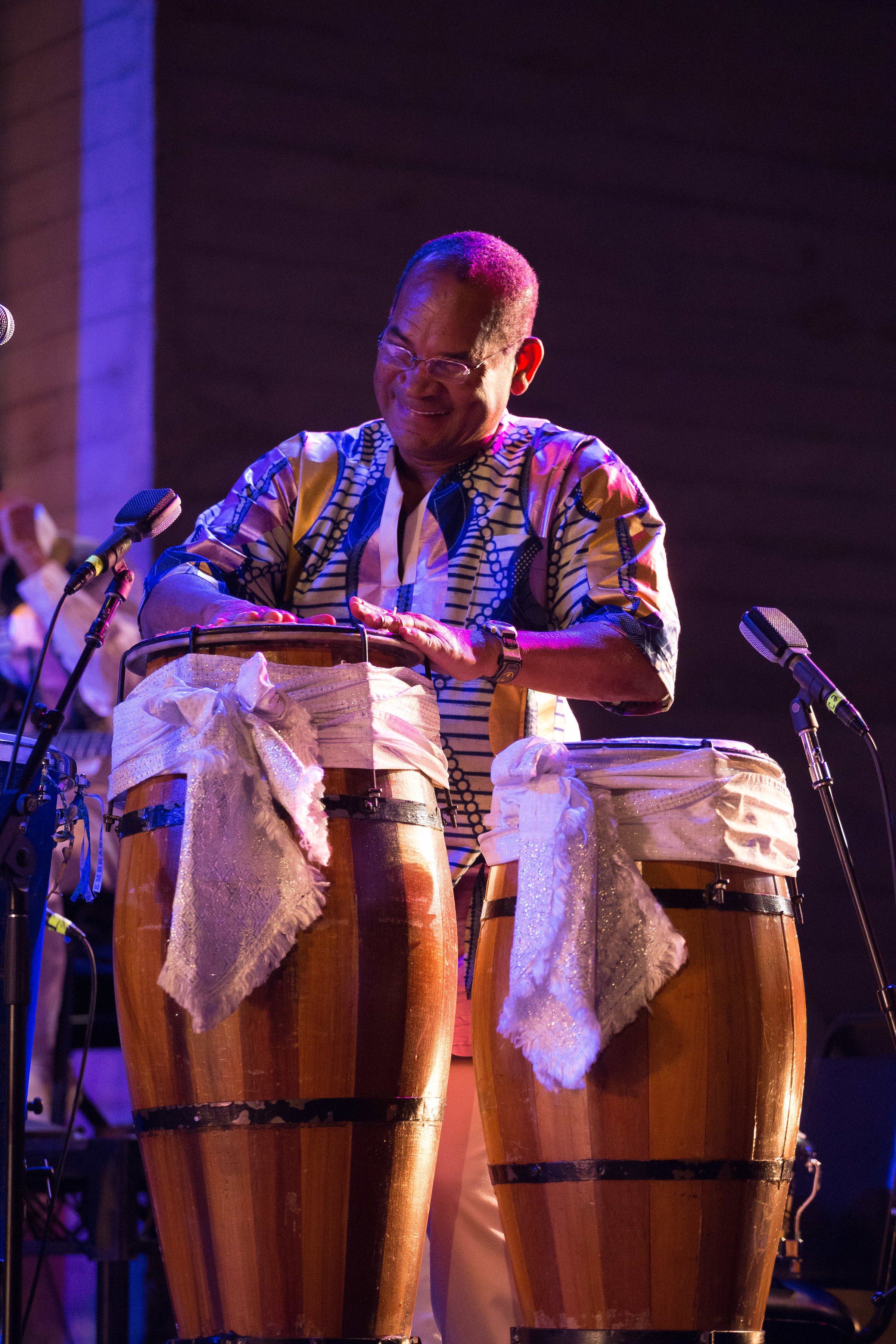 Badaró is a native son of Bahia with over thirty years teaching Afro-Brazilian dance, choreographing and playing percussion. His choreographies exalt the intense love he has for his culture and its preservation and development.
Paula Santos, Tour Guide Extraordinaire
Paula has been involved in socially conscious tourism in Bahia since the early 1980s. Her knowledge of Afro-Brazilian history, literature, media, visual art and gender issues provides a deepened context in which to understand the complexity and beauty of Afro-Brazilian culture.
Dancing and Drumming at the Source faculty includes Jose Ricardo Sousa, Gilmar Sampaio, Vera Passos, Vania Oliveira, Amelia Conrado, Dona Cici, Tatiana Campelo (percussionists), Joel de Souza and Cid Morais, Vivian Caroline of Dida Womens Percussion Ensemble, Afro-Brazilian storyteller, Dona Cici, with lively talks by contemporary writer Mel Adun and acclaimed visual artist/designer, J. Cunha.
TESTIMONIALS
"This cultural immersion program gave me experiences beyond my wildest imagination. Linda Yudin has spent years cultivating extraordinary relationships with the grassroots artist/candomblé community of Bahia, and she happily shares these extraordinary dancers, choreographers, and sacred grandmothers in what can only be described as a life-altering two weeks. I danced beyond my limits, laughed, healed some personal struggles, and made a handful of amazing women friends. This is no tourist trip—it is a real immersion into Bahian life and culture the spiritual, the physical, and the emotional."
— Marlowe Moore (Writer / Dancer)
"Linda Yudin offers a travel/dance program like no other, she gives us the golden key to the city and we become privy to the heart of Salvador, Bahia. Viver Brasil's travel program offers educators, storytellers, elders of the land, and masters of the dance. We sweat with dancers in the studio by day, and dance with the people in the streets at night. We float on salty seas in the late afternoon munching on shrimp and drinking from coconuts. We stand steeped in a rich history that we get a chance to explore in some way everyday."
— Lauren McMillan (Social Worker / Dancer)
"I've gone to Bahia with Viver Brasil three times. As a travel writer, I've always looked for authenticity and the real essence of the place in my travels. Viver Brasil's Bahia Travel Program offers these and much more. Linda is an encyclopedia of Afro-Brazilian dance and culture, and through her program, you'll meet and learn from those in the forefront of Salvador's Afro-Brazilian dance, ritual, and music."
— Vicky Iskandar (Journalist / Dancer)
"This is a once-in-a-lifetime trip: we danced with top artists, studied Bahian culture and history with noted scholars, and participated in the West African-based religion candomblé ceremonies with highly regarded priests and priestesses. Linda and the Viver Brasil team were very well organized, transportation was comfortable, and we had access to people we wouldn't have if we had toured the city on our own."
— Angelina Arrington (Educator / Dancer / former VB Board Chair)